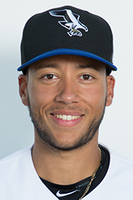 Abraham Almonte (Philadelphia University, Express 2016) was named a Pioneer League All Star recently. Almonte, a 26th round selection by the Arizona Diamondbacks in the 2017 draft, has dominated since joining the league...posting a 1.74 ERA while leading the league in saves (5) and K's per 9 innings (14.4).
This success parallels his 2016 summer in Strasburg. Despite missing his 2016 collegiate season due to injury, Almonte surged in the VBL with an ERA of 2.25 and a jaw-dropping 35 K's in 16 innings. Most memorably in game 2 of the championship series Almonte K'd the final the final 2 hitters, with the tying running on second, securing a back-to-back championship run for the Express.
From your friends in Strasburg, best of luck Abe!