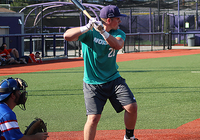 Strasburg's Brandon Quaranta (Philadelphia University) absolutely dominated the final round of the VBL Home Run Derby, launching 12 home runs in that round alone to win the 2017 competition.
Quaranta was tied with New Market's Jake Washer heading in to the final round with 4 home runs each. Washer proceeded to hit an impressive 4 home runs in the final round but Quaranta was too much, turning in one of the highest rounds in the history of the VBL event. Quaranta launched 12 home runs in the last round alone…posting a total of 16 home runs on the night…to clinch the 2017 derby championship.
Our very own Tyler Martin (Georgia Southern) was also a participant, hitting 1 home run in the first round. Trevin Esquerra of Purcellville added 1 home run in the first round while Andrew Zban, also from Purcellville, hit 3 total home runs.
Overall, the five competitors combined for 29 home runs.
First Round:
Trevin Esquerra, Purcellville (1)
Tyler Martin, Strasburg (1)
Brandon Quaranta, Strasburg (3)
Jake Washer, New Market (3)
Andrew Zban, Purcellville (2)
Second Round-Total:
Andrew Zban, Purcellville (1-3)
Brandon Quaranta, Strasburg (1-4)
Jake Washer, New Market (1-4)
Final Round-Totals:
Brandon Quaranta, Strasburg (12)
Jake Washer, New Market (4)